Take some time off from your busy Israel tour and relax at a hotel in Eilat. A large selection of Eilat hotels have direct beach access, large outdoor pools, kids rooms, and excellent amenities. Browse our collection of hotels in Eilat and start relaxing!
Spend your days relaxing by a man-made lagoon or stroll around the Eilat Marina when you stay at the luxurious Agamim Isrotel Hotel – a treat for the whole family!
Find yourself at the Dan Hotel, one of the most glamorous resort hotels along the Red Sea; fully equipped with luxurious facilities and a private beach entrance.
Luxury meets convenience at Eilat's Herod's Palace Hotel. Soak in a hot tub, get a massage,and enjoy the view as you look over the sparkling Red Sea waters.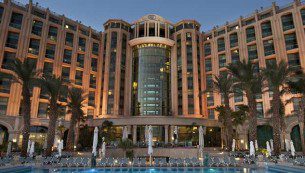 A stay at the Hilton Queen of Sheba Eilat is true royalty. Enjoy beautiful views of the Red Sea along with facilities and amenities that make any stay a majestic one.
Enjoy a peaceful vacation at Le Meridian Hotel in Eilat. Close to shopping centers and with access to its own private beach, this oasis is sure to please.
The Prima Music Hotel is perfect for guests who want a relaxing, musical ambiance. Away from the main streets of Eilat, it provides the grounds for true relaxation.
Stay at the Royal Beach Hotel in Eilat and enjoy the magnificent sights and sounds of the Red Sea, taking in breathtaking beach views right from your balcony.
Stay at the delightful Dan Panorama, equipped with beautiful rooms and facilities, and providing an ideal spot to explore Eilat's unique natural attractions.
The Rimonim Neptune Hotel is located on the shores of the Red Sea, adjacent to a well tended semi-private beach, and in the center of Eilat's entertainment.